IRIS
Monitor Home Exercises for BLV Rehabilitation
Sponsored project
Collaborator - Ian Shei
Completion - Fall 2020
UI/UX Design
User Research
Video Production
Blind/low-vision (BLV) occupational therapy helps patients adapt to their visions and aquire skills of activities of daily living (ADLs). However, occupational therapists can't be there for patients 24/7.

Working with a BLV occupational therapist from the regional eye center, we designed IRIS for occupational therapists to generate and monitor patients' home exercises to reimagine BLV rehabilitation.
More about Iris at

see-iris.com

.
We observed Holly's therapy sessions to have an overview of the full occupational therapy. While the clinic training process is well-designed to meet the needs of patients, patients tend to get frustrated when they conduct home exercises because clinical trainings are not always applicable in real life.
We interviewed 3 stakeholders in BLV occupational therapy to learn about their experiences in the subject field. All interviewees emphsized the importance of customizability, low intrusion and real-life practices.
We set a range of goals based on our observation that home exercise is a missing opportunity for the success of BLV patients' adaptation.


Design Prototype

We proposed a system innovation that fosters intelligent home exercises monitoring for both occupational therapists and BLV patients.


Using cloud service, we connect OTs' platform and patients' wearable trackers to share information of home exercises seamlessly.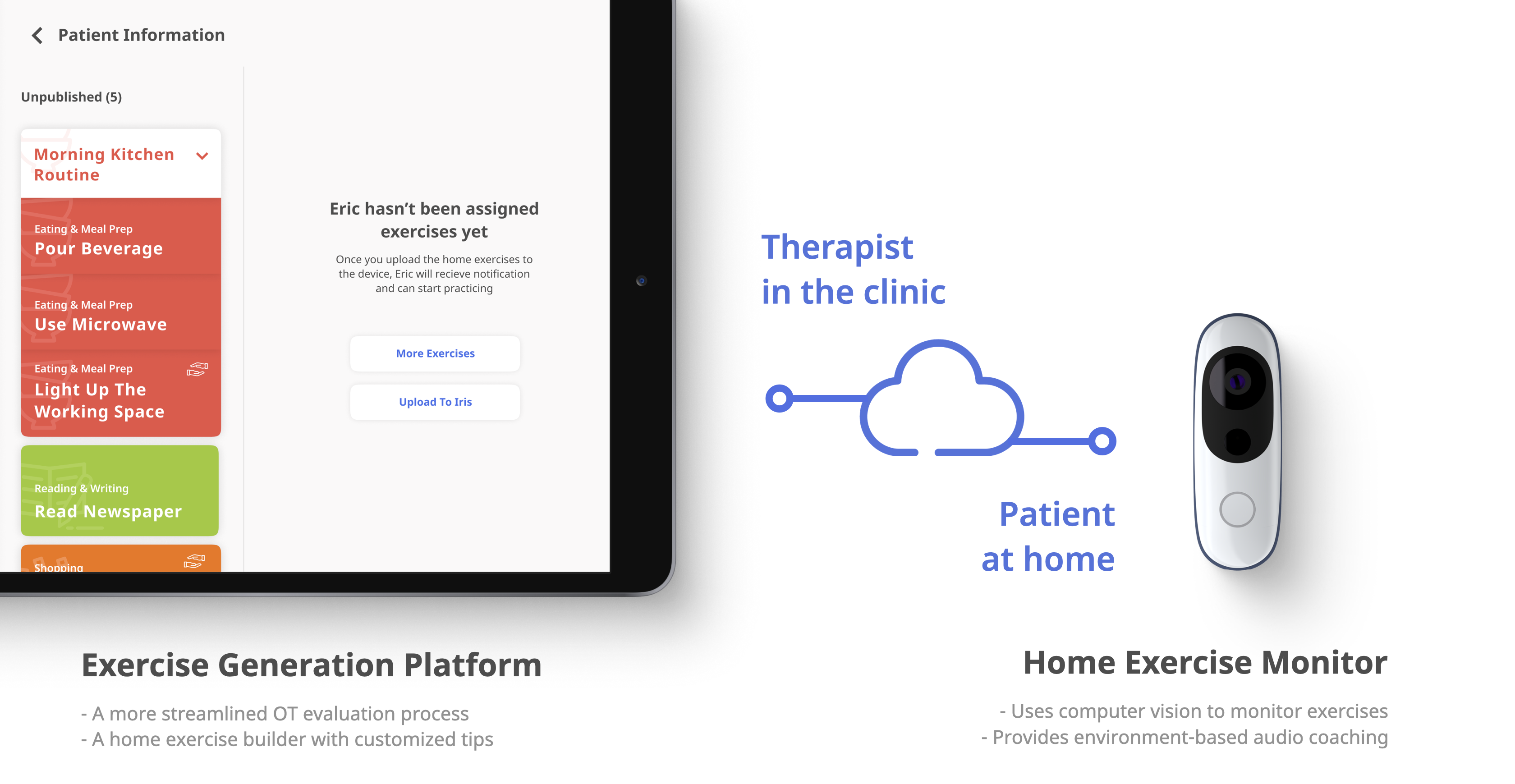 Built upon existing therapy paradigm, the new service system intends to create a positive feedback loop between the home exercise and clinic training session. It also fosters both synchronous and asynchronous feedback from OTs to patients.


Patient's journey starts with the first appointment with their occupational therapist.

As usual, the occupational therapist first evaluate patients' conditions by asking questions, and the system will generate recommended home exercises based on the evaluation.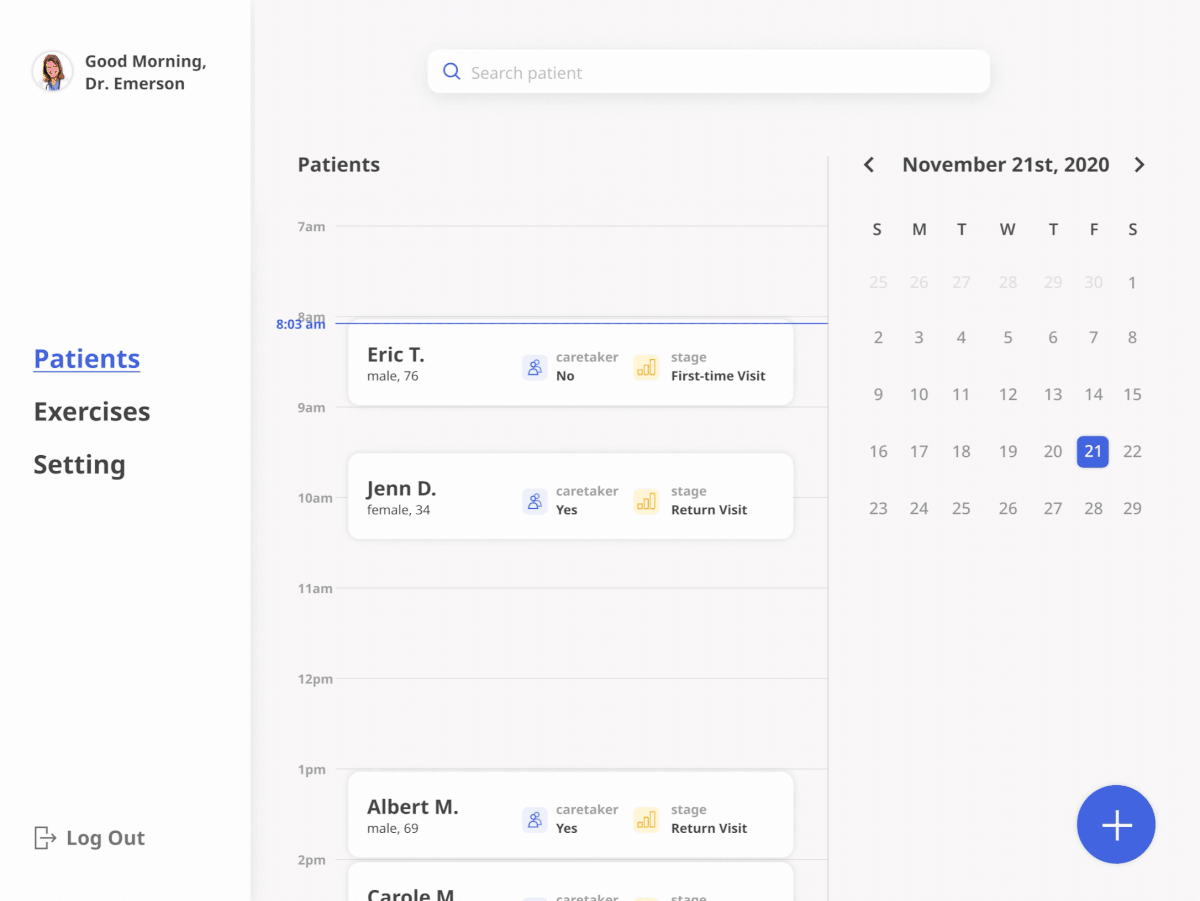 The OT and the patient will then select and customize home exercises together, choosing appropriate assisstive devices, situational tips and other conditions to better assist patients.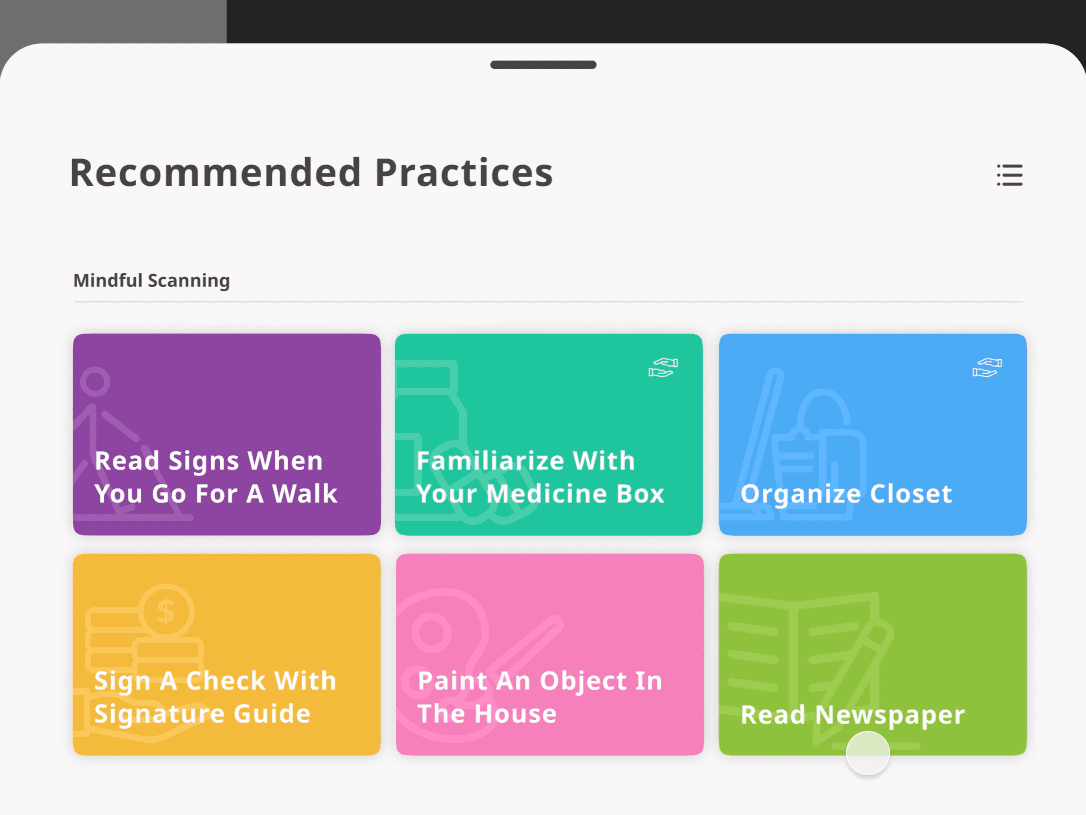 Now that the activities are selected, OT uploads the exercises to Iris Cloud and hands the wearable camera to Eric to use it at home.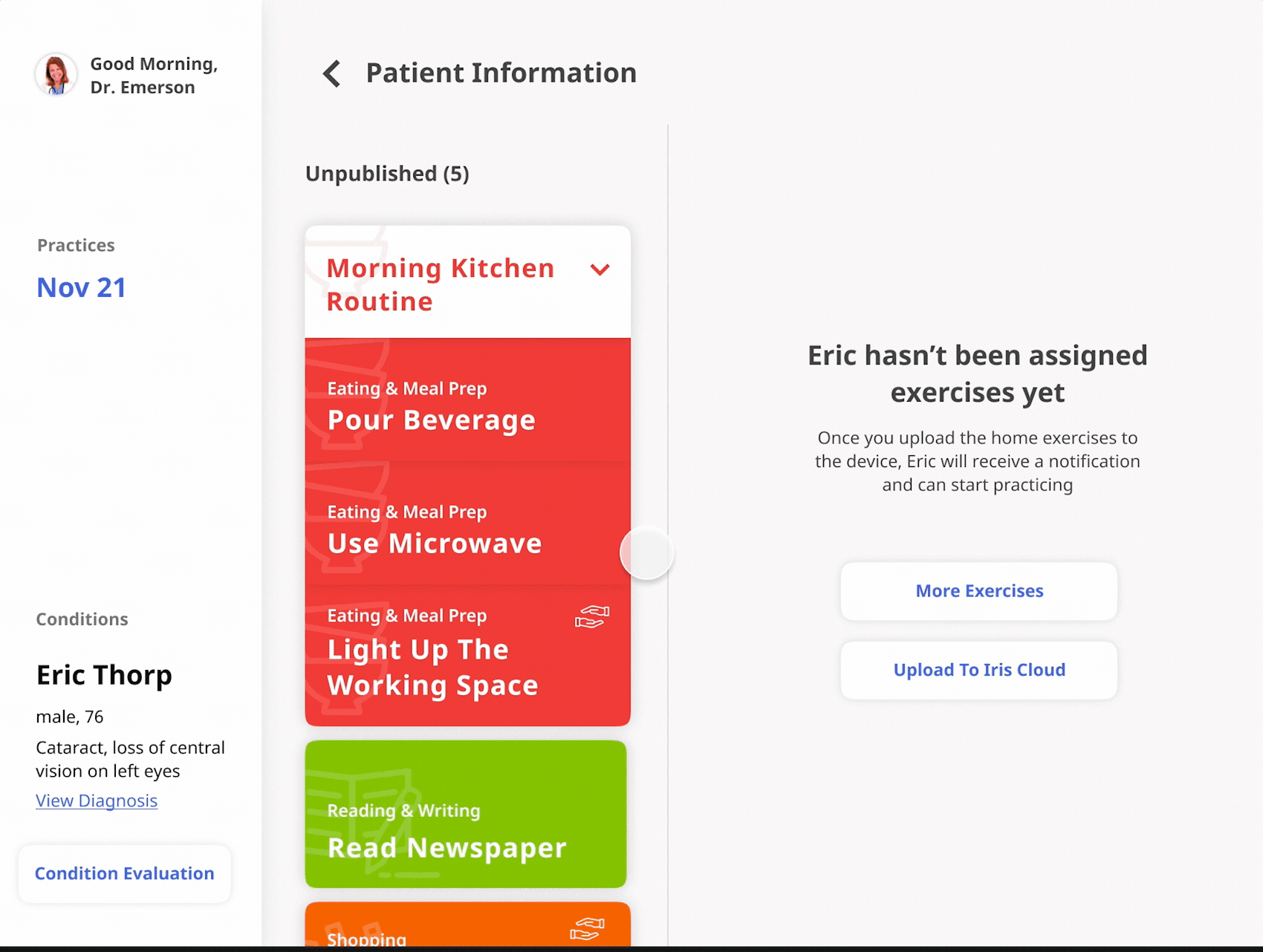 When the patient gets home, they feels confident to start the assigned exercises using Iris wearable coach.


Activate Device︎︎︎
To start the exercise, the patient first opens up the IRIS phone app to see the tasks they are assigned. They can use screen reading to read the page or switch to night mode for readability. Once selected the exercise, the patient can clip the device to their head piece or their shirt, and press the start button to start exercising.
Assist Exercise ︎︎︎


Using advanced
image recognition
technology, the device can recognize objects, tasks, environments, and provide tips when performing corresponding tasks.
Once finishing with the assigned exercises, the exercise recordings and any audio feedbacks will be shared with their therapist.




Right before the second appointment, OT opens up patient's profile and reviews the exercise videos uploaded by patients.


Review Home Exercise ︎︎︎
Video recordings are timestamped automatically based on steps of the exercises. The occupational therapist can annotate on the the video timeline about patients' performance. When patient arrives, they can go over the videos and notes with patient and discuss the next-step training.

Evaluation

We evaluated our design from different perspectives to situate in a pragmatic context.
Compared to other attampts to improve real-life rehabilitation, our service combines the sufficient monitoring in simulation exercise space and the lightweight of AIRA app, in order to encourage patients' independence.
As we validated our concepts with Holly, we believe our proposed BLV occupational therapy can offer great benefits to OTs' existing practies.
Process

To progress from low-fi to mid-fi prototypes, we tested with OT Holly for concept validation. We also tested with peer designers from mid-fi to hi-fi to improve interface usability.
As we introduce videos to the existing therapy, Holly appreciated that we emphasized on showcasing the steps and data of each exercises, but hoped to have more organized structure about patients list.
Exercise Customization ︎︎︎
Given the complexity of the tasks, we were inspired by how Apple's Shortcut app creates a customization template to allow OT to customize the exercises with some function limits.
As we consulted Holly, she hoped to jump straight to the annotation rather than watching the whole video.