MUSE
Redesign Museum Exploration Experience
Collaborators - Clair Sun, Arshin Jain
Completion - Summer 2020

User Research
UI/UX Design
Documentaion @ UX Planet


In a pandemic-struck society, traditional in-person museum discoveries are transformed to novel digital encounters. This transformation is especially difficult for local museums. How can we help museums maintain cultural engagement?
Overview
Museums have been facing greater operational challenges since the pandemic. Looking at their digital marketing, museums don't have a concise, quick, centralized place like many other nonprofits to connect to audiences.
After our interviews, we identified two unqiue user persona with different levels of interest in museums and different visiting purposes.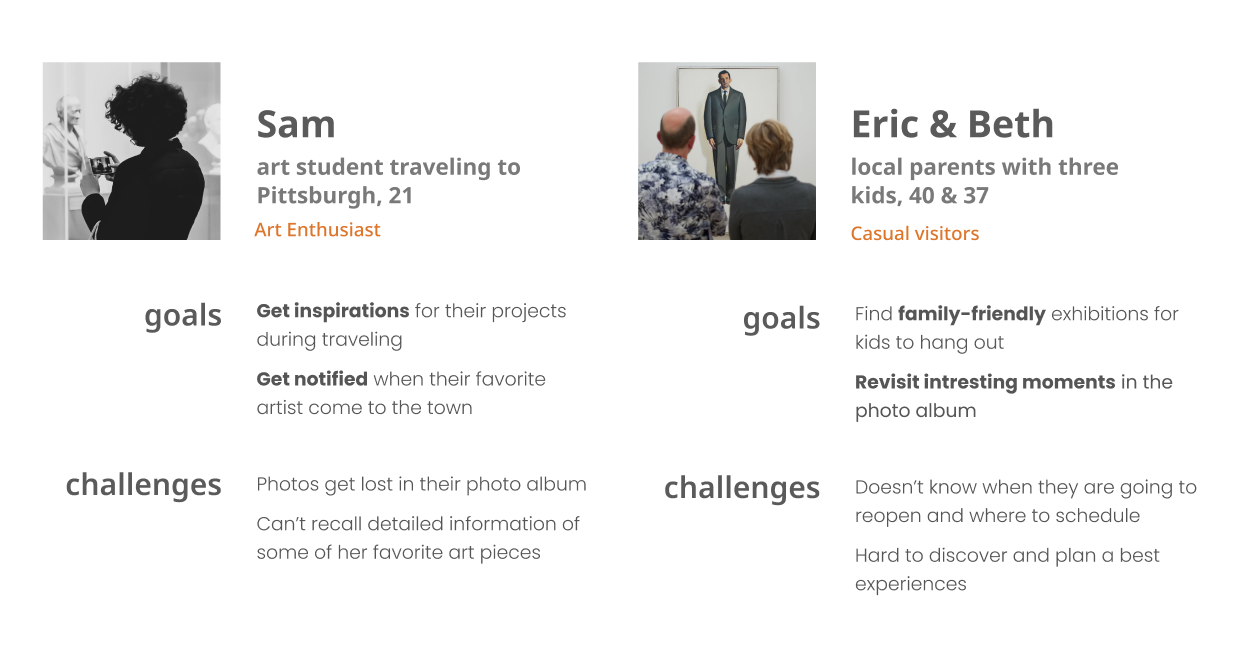 Competitive
Landscape︎︎︎
Through analyzing how the two user persona might access museum updates, we mapped out a range of apps that they might use. In general, event exploration apps enjoy a much bigger audience pool than cultural exploration apps.
Thus we decided to
look outwards to help connect the museums' informations to visitors
, especially since museums' updates become fully digital and require online scheduling after the pandemic. We hope to achieve these few goals:
Help visitors discover museums and exhibitions to increase museum digital presence
Improve and sustain the ongoing relationship between museums and visitors
Motivate users to donate and raise funds for different initiatives for museums
Throughout many cycles of user and stakeholder interviews, concept iterations and validations, our product evolved through three main phases.
After user testing with idea 2, we realized that we need to pivot our features towards a more realistic context.


Here we are showing the stages of mid-to-high fidelity exploration for our discovery idea. We select a few critical design exploration and decisions based on feedback from users and museum experts.

Hi-fi Prototype
We created MUSE, a one-stop app for visitors to discover museums. People can find upcoming events, revisit memories of visits, and support causes at museums.
Comparing to other event exploration apps, we discovered that developing a schedule-based search method is needed especially after museums mandated online ticketing.
On the other hand, we keep the content/visual-driven presentation for audiences like art enthusiats to drive their curiosity.
Schedule + Location search — search based on your availability;
Artifacts + Loscation search — artifacts from the museums around you;


85%

of consumers say they find UGC (user-generated content) more influential than brand videos or photos.
Memory box feature is designed to satisfy two different user needs - social media sharing(marketing) and artistic research (utility).
Your Footprints — summaries of your museum photos based on location and time. Like a diary, it allows users to make notes, share, and explore similar artifacts in our collection database using machine learning.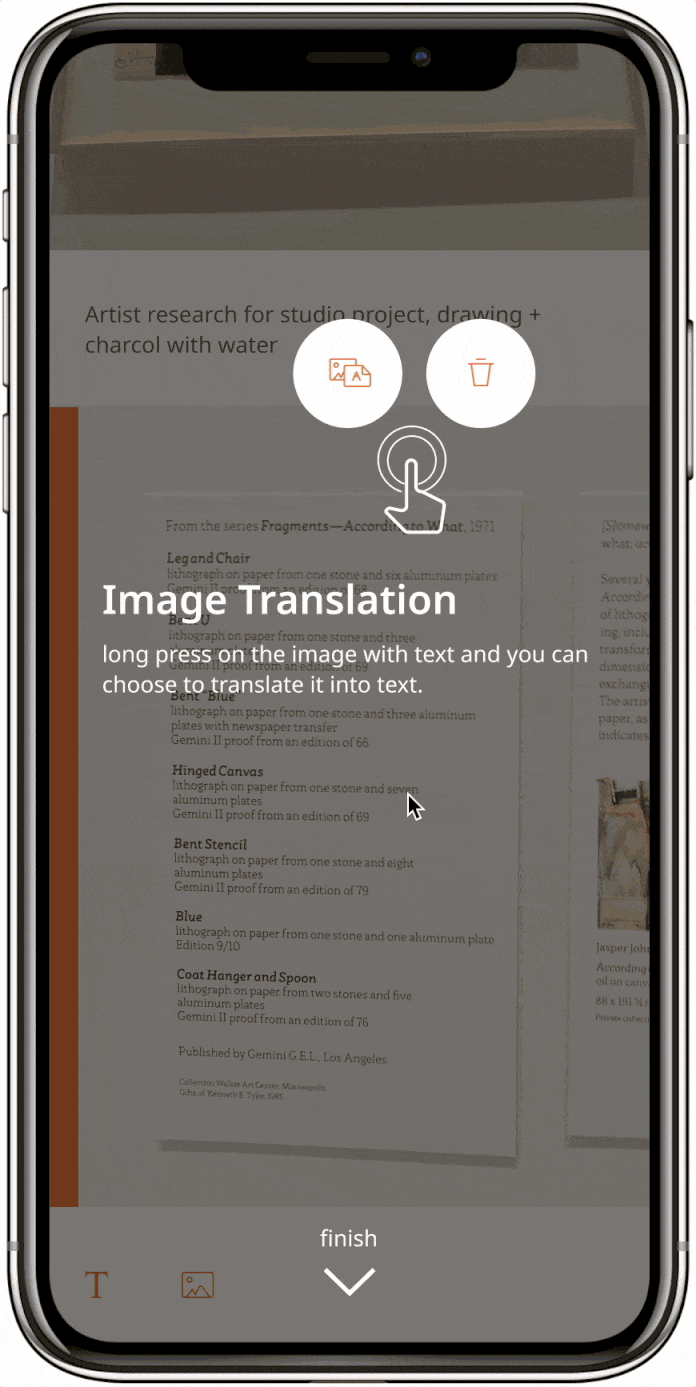 Favorite Artifacts — artifacts from the collection database that you have saved. Click or drag the image to learn more about the artifact's history and other similar works in the collection.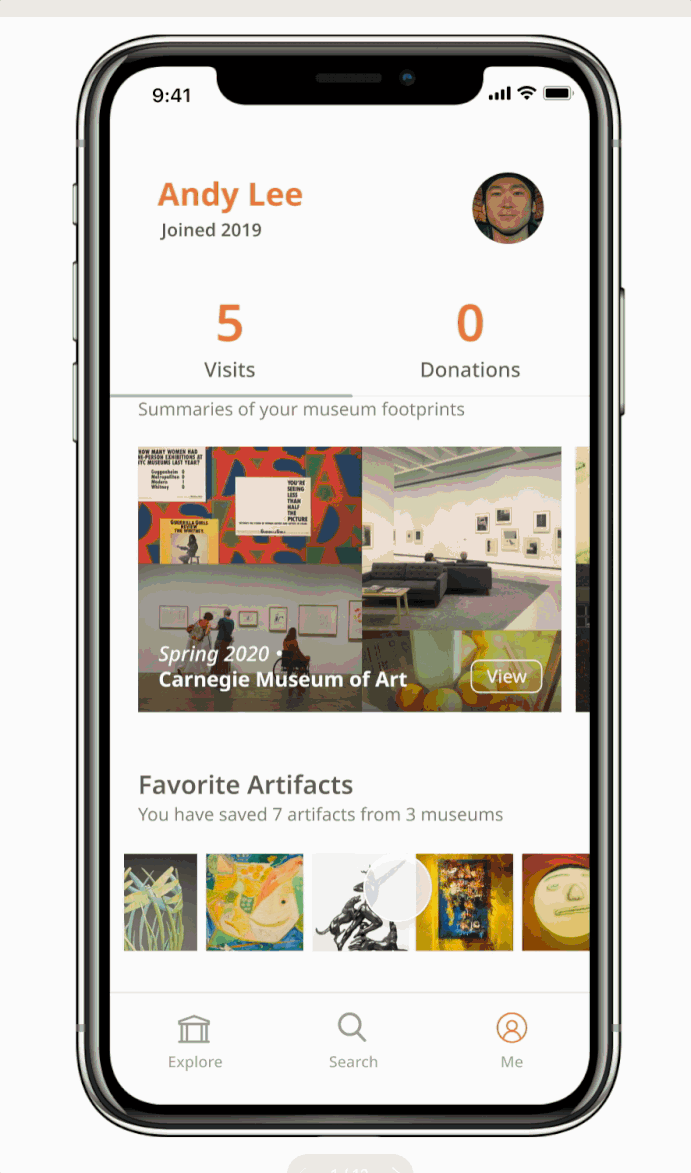 Reflection

We are very proud that our project has get a lot of attention from various local museums including Carnegie Museum of Art, Mattress Factory, Andy Warhol Museum, The Frick Musuem etc. Our next step is to think realistically about what we can improve if we plan to create a meaningful app that lasts.
We interviewed with Google Arts & Culture to understand how it creates such a successful business model. It utilizes technology in a creative way to attract and maintain the audience. The platform first took off in 2018 with the viral interative game shared across social media platforms.
Museum experience is not a staple for everyone. It can be difficult to keep audience engaged in the content in long-term. Creating community will be our next-step solution to maintain a lively user group.
Streamline Design Process ︎︎︎
We had some major pivots along the design process, which was relatively less efficient. Going forwards, more frequent user testings at every prototyping stage would be helpful for us to keep on the right track.